How do you access the control panel?
Accessing the Webhosting Control Panel 
Together with your activation mail you have received your personal username and password. 
You need to be careful and keep this access data secret. Besides that, you have received the server address to the control panel. For example: https://wh01.softronics.ch/
Enter your username and the corresponding password into the login screen and click login.
If you enter your login data wrongly three consecutive times the control panel will be blocked for 30 seconds. If you enter the data incorrectly three more times you will get blocked for thirty more minutes. This block can NOT be removed by entering the correct password.
In case you lose your password, you can click on "Lost password". Your new password will be sent to the recorded email address.
If you are inactive on the control panel for a longer period, you will be logged out automatically.
General overview
After logging in you will see the general overview.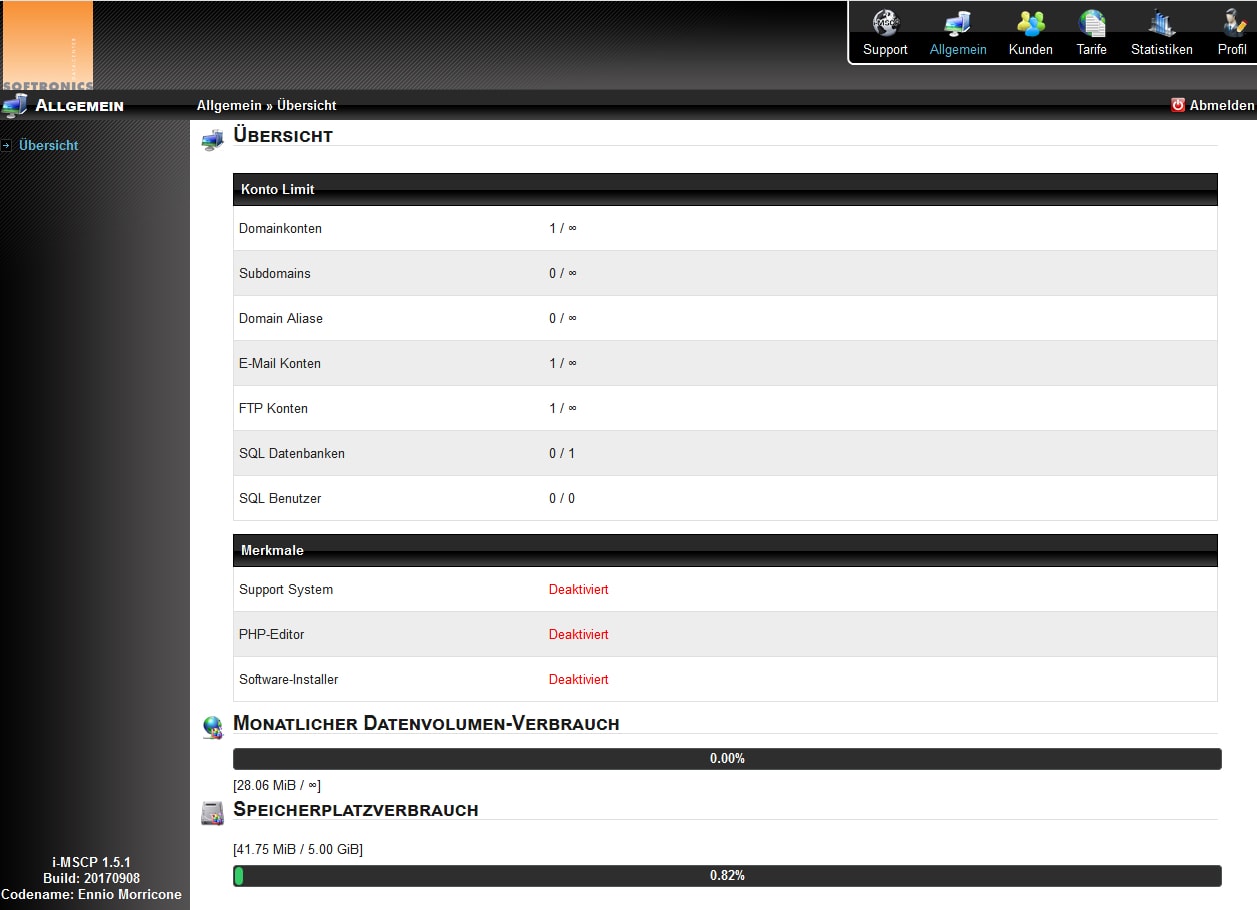 Account Limits
Domain accounts: Number of active domains and maximum amount of domains
Subdomains: Number of active subdomains and maximum amount of subdomains
Domain aliases: Number of active domain aliases and maximum amount of domain aliases
Mail accounts: Number of active mail accounts and maximum amount of mail accounts
FTP accounts: Number of FTP accounts aliases and maximum amount of FTP accounts
SQL Databases: Number of SQL Databases aliases and maximum amount of SQL Databases
SQL User: Number of active SQL User and maximum amount of SQL User
Features
Support system: Is deactivated by default. In the main menu you can click on "Support" to get to our support contact and our FAQ.
PHP-Editor: Is deactivated by default
Software installer: Is deactivated by default
Monthly traffic usage
Displays how the current amount of used internet traffic and the maximum amount of internet traffic of this month.
Disk usage
Shows you how much disk space you are currently using for your data, your databases and in the e-mail mailboxes of your web storage.
The upper limit of your dsik space is displayed aswell.
Main Menu
In the top right corner, you can see an overview with the main options that are available to you.

Support: A link to our support contact form
General: An overview of your webhosting
Customers: An overview of the installed domains. You can create further domains.
Hosting plans: Overview of the hosting plans, specifications for new domain accounts. Here you can add hosting plans as well.
Statistics: Shows you a statistic of all your domains
Profile: Here you can view and edit your personal profile
Logout: Closes the control panel and properly signs you off