Linux Dedicated Server Pro
A phisical server - just for yourself!
Use one of our exclusive high-performance servers and configure it according to your ideas and wishes.
Features
Full root access
99.9 % server availability
UPS power supply
Free email support
Ad-Free
Tech
Hardware RAID controller from LSI (RAID1)
IPv4 Addresses
100 Mbit/s Bandwidth
50% Monday discount on the whole product! *

Server location
Your server is guaranteed to be exclusively operated in safe and neutral Switzerland.

Traffic per month
The traffic limit only serves to avoid possible abuse - according to a Fair Use principle.

DNS Hosting
You can create and edit the DNS records of your domains in our web Interface.

Linux distribution
By default your server will be installed with the latest Debian release. Other distributions available at no extra charge.

Server monitoring
On request, you will be automatically notified in case of server failures via SMS or email.

Server uptime
On request, we guarantee at least 99.9% availability.

Install software
You can install any software which runs on Linux. (Apache, MySQL, PHP etc.)
Frequently asked questions
What is a Dedicated Server
A Dedicated Server is a server, which is only operated for you in our data centers in Switzerland. This server is available with all the power and without virtualization, only for you. You do not share the server with other customers. Our Ded servers are delivered with the latest OS versions or with a version according to your choice.
In comparison, a root server is a computer that is installed in a virtualization environment and as a single virtual server on the corresponding host. You do not share your Dedicated Root Server with other customer.
It is a flat priced offer including the whole Data Center environment located in Switzerland.
Two/three totally separated pipes for electricity and data.
Fail-safe internet connection. Redundancy of each network component.
Multiply redundant servers for data and computing power.
Redundant, uninterrupted power supply unit (UPS).
Power supply by Swiss industry standard. Highest quality class worldwide.
Automatic climate control. Constant temperature.
Fully automated activity check.
Up-to-date data backup: fourfold saved, separated in different fire protection zones.
You have more questions? Don't hesitate to contact us
info@softronics.ch
How do I access my Windows Dedicated Server?
You get access to your Windows Dedicated Server via a secure RDP connection.
RDP (Remote Desktop Protocol) is a proprietary protocol from Microsoft to control Windows computers remotely. The RDP service is normally provided on port TCP 3389 and has a 128bit encryption. It is recommended to change the default port 3389.
Changing the port TCP 3389
You must have administrator rights to change the port.
Start the program regedit
Got to HKEY_LOCAL_MACHINE\System\CurrentControlSet\Control\TerminalServer\WinStations\RDP-Tcp\
Select the port 3389 and overwrite it with a free port of your choose (Wiki: Free Ports).
In the next step you have to configure the Windows Firewall.
Open the Windows Firewall with Advanced Security.
Create new Inbound and a new Outbound Rules.
Set the new defined Port as fix Port for TCP and UDP for the RDP-connection.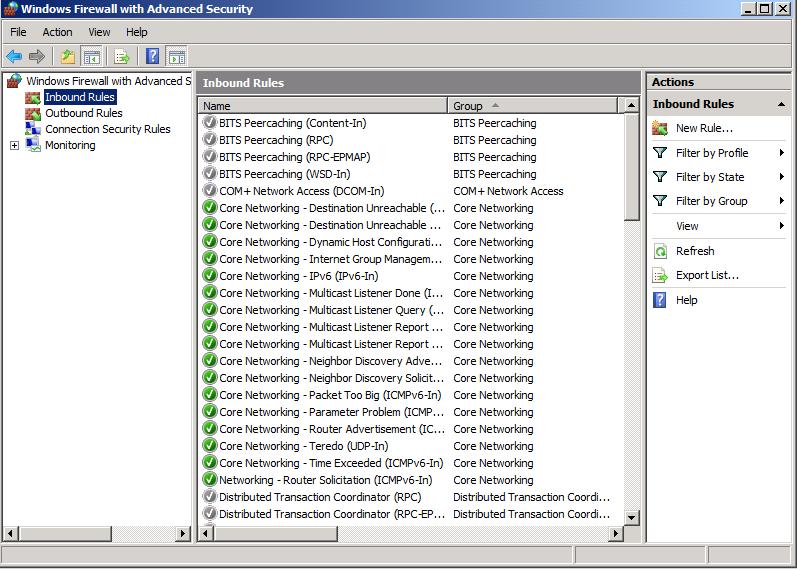 How do I access my Linux Dedicated Server?
You get access to your Linux Dedicated Server via a secure SSH connection. You must have administrator rights too get full access to your Ded-Server.

SSH is connecting on Port 22 per default.
Registration via PC / Mac
SSH application for Windows:
For administration on a Windows environment, we recommend the free SSH client Putty, Download.
SSH with Linux:
The OpenSSH suite is usually installed on Linux and you can used it to access the remote server.
SSH with MAC:
Mac OS X has a built-in SSH client called Terminal which can be used to connect to remote servers. By default, Terminal.app is located in Applications / Utilities folder and is connecting with the local username on Port 22.
To connect to your server fill in the following at the prompt: ssh IP-adresse -l username -p port
Registration via Smartphone / Tablet
SSH App for Android
Download the ConnectBot for you Smartphone / Tablet from Google Play or F-Droid
Install and open the App
Add a new connection
Fill in your username and the IP-address
SSH-App für iPhone / iPad / iPod:
For your Apple device, download the SSH-client Termius
Show all articles
* Discounts apply to the first period of the selected duration.